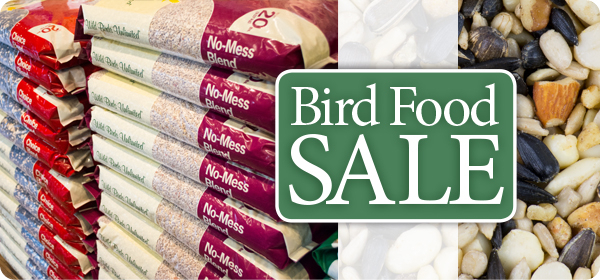 SEED & SUET SALE GOING ON NOW - FEB. 28, 2019!*
Shop now and save!
Your Birds and Budget Will Love It!
Offer a Variety of Foods to Attract More Birds!
WBU Seed Blends: We offer a variety of seed blends regionally-formulated for the birds in our area. Our blends contain no fillers - just foods your birds will love!
No-Mess Cylinder: Birds will flock to this tidy food option. Our No-Mess Cylinder includes sunflower chips, peanuts, tree nuts, and cherries.
Bark Butter: No bird food attracts more species of birds than Jim's Birdacious® Bark Butter®, a spreadable suet that can be easily smeared on tree bark or a Bark Butter Feeder.
Hot Pepper Products (Seed, Suet, Cylinders, etc): A wide variety of birds will enjoy dining on our Hot Pepper Products but squirrels not so much.
Suet and No-Melt Suet Dough: Contain high-quality ingredients that make every trip to the feeder count.
SEED STORAGE AVAILABLE!
Don't have time to stop by?
Phone in your seed order today!
651-690-9525
*Offer not valid on previous purchases. Valid 1/19/19 through 2/28/19 at the 2020A Ford Parkway, St. Paul, MN WBU location.
----------------------------------------------------------------------------------------------------------------------------------------------------------------------------------------------------------------------------------------------------
BUSINESS HOURS
Monday - Friday: 10:00 am - 7:00 pm
Saturday: 10:00 am - 6:00 pm
Sunday: 11:00 am - 5:00 pm